Wire clothing

To process wool we suggest topping Morel's rollers with nonuniformaly variable pitch wire clothings.
The wire clothing of such design will allow:
to ease a wire clothing setup by replacing two previously used wire clothings with a single one;

to increase a waste removal quality.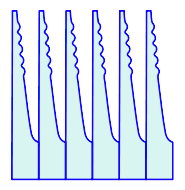 To process synthetic fiber we suggest using wire clothing with fluted surface dent.
The use of the said wire clothing at the doffing drum will allow you to increase the output of carding machine owing to the wire clothing feature enabling to hold fabric in carding area.
Tooling improvement is a core principal to ensure steady operation of enterprise.

The wire clothing setup into the unit allows:
to top rollers over worn grooves;

to avoid ribbon unwinding at swifts in case of intrusion of foreign matter into carding area.
Dear Customers!
To reduce waste of wire clothing produced while topping driven elements of carding machines it is reasonable to place an order for wire clothing specifying the quantity not in kilograms but in meters. This will reduce your expenses.
To calculate required quantity in meters, please use the formula as follows:

where: М — quantity of wire clothing, m
П — 3,1415926
D — swift diameter, mm
L — swift width, mm
В — thickness of wire clothing base, mm or spacing of swift groove, mm
To purchase a self-locking wire clothing, please send us a message or call us.