Special-purpose wire clothings

To process wool we suggest topping Morel's rollers with nonuniformaly variable pitch wire clothings.
The wire clothing of such design will allow:
to ease a wire clothing setup by replacing two previously used wire clothings with a single one;

to increase a waste removal quality.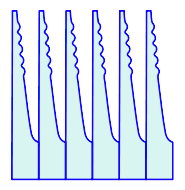 To process synthetic fiber we suggest using wire clothing with fluted surface dent.
The use of the said wire clothing at the doffing drum will allow you to increase the output of carding machine owing to the wire clothing feature enabling to hold fabric in carding area.
Tooling improvement is a core principal to ensure steady operation of enterprise.
To purchase special-purpose wire clothings, please send us a message or call us.